ABOUT US
We are an independent, artisan roaster dedicated to the enjoyment of coffee through the preservation of the traditional art of coffee roasting and a fanatical quest for quality from origin to roast to cup. All of our roasting is done to order in small batches using a vintage German 1951 Ideal Rapid Gothot drum roaster. We roast only to order and only the finest single origins. Certified Organic, Certified Fair Trade, Certified Kosher.
We take our responsibilities to the communities we belong to as seriously as our craft. We contribute to the fundraising efforts of local non-profit groups as well as to social, economic and environmental programs in the coffee growing regions through our ongoing support of Grounds for Health and the International Women's Coffee Alliance and by our Organic and Fair Trade certifications. In addition, by participating in Nexamp's Community Solar program, 100% of Indigo Coffee's electricity purchases are from renewable energy sources.
ROSARIO, OUR ROASTER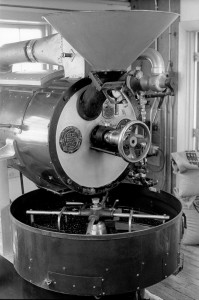 Built in Germany in 1951, "Rosie the Roaster" is an Ideal Rapid Gothot Roaster. With a 22-kilo capacity, Rosie is truly a small-batch roaster. She is gas-fired and designed to indirectly heat the coffee beans. Mixing paddles in the rotating drum keep the beans roasting evenly. She is manually operated, allowing our roastmaster to make fine adjustments to temperature and air-flow in order to tailor each roast to the specific coffee origin.
Our roastmaster (and one of the company's founders) has been roasting coffee since 1987 and has never encountered a more elegant, responsive and reliable machine. Rosie stands apart from other drum roasters by allowing not only the science but the traditional art of roasting to flourish.
INDIGO JINGLE
The 'Indigo Coffee Jingle' created in 2001 by Dave Brinnel and Rachel Maddow
of the Dave in the Morning Show on our local radio station, WRNX, 100.9 FM, Holyoke, MA.
Legend has it that coffee was first discovered around 800 AD by an Ethiopian goatherder named Kaldi. He observed his goats prancing and frolicking about in an unusual manner after eating the berries of a nearby shrub.  Intrigued, he tried some himself, igniting the world's passion for coffee!
INDIGO COFFEE IS PROUD TO SUPPORT THE FOLLOWING ORGANIZATIONS:
INDIGO COFFEE IS A PROUD MEMBER
OF THE FOLLOWING ORGANIZATIONS:
INDIGO COFFEE IS CERTIFIED BY THE FOLLOWING ORGANIZATIONS: